SCBA Spectacle Kit and Prescription Lense Order Form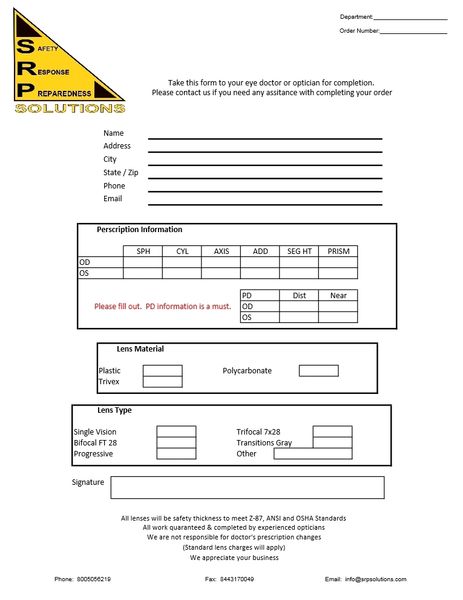 SCBA Spectacle Kit and Prescription Lense Order Form
Process For SCBA Kit and Prescription Lens Order :
1. Open attached picture form on your computer. A picture viewing program works best.
2. Print form to full size of standard 8 x 11 paper.
3. Complete your information
4. Order your SCBA Spectacle Kit and Lens Package.

4. Have your eye doctor complete eye exam information as specified on form.
5. Return form to SRP Supply Store by email - info@srp-solutions.com, or fax - 844 317-0049, or mail to: SRP Supply Store, 2254 Waits Road, Owego, NY 13827.

6. You will receive your SCBA Spectacle Kit and Prescription lenses in 10 to 14 days after receipt of eye exam form.

7. Contact SRP Supply Store at 800 505-6219 if you have questions.